Sydney's Top Bee And Wasp Removal Service
The stings of bees and wasps can develop skin redness, itching, and edema. They come in large groups into any residence. As a result, removing them becomes tough. We offer superior bee and wasp control services in Sydney. So, if you need bee removal, reach Mick's Pest Control. We have an expert bee removal Sydney staff. You can dial 02 4018 7435 to book us.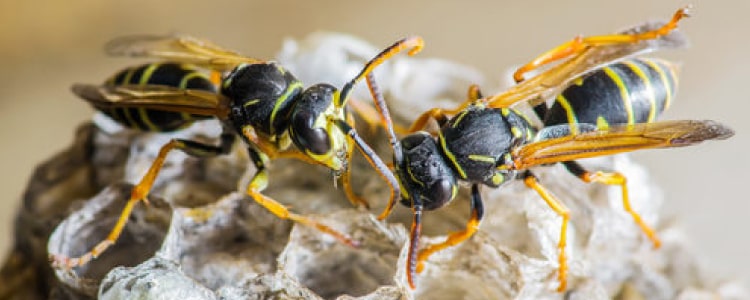 How To Get Rid Of Bees And Wasps?
While performing this task, our personnel are required to wear safety equipment.
First and foremost, they look for bees.
After identifying the bee and wasp nests, chemicals are applied to suffocate the bees and wasps, and the bees and wasps are removed.
Their nests are damaged once they are removed. So that they do not come back and live there again.
After removing the pesticides, our technicians remove any remaining pesticides.
Bee & Wasp Removal In Sydney? Mick's Pest Control To The Rescue!
It would be best if you never tried to eliminate bees in your yard on your own because bees are dangerous. Get rid of the bees with the help of professional pest control in Sydney. One of the challenges that many homeowners usually have is having Bee and Wasps nest in their yards.
Our professional Bee And Wasp Removal Sydney team deals in identifying the Bee or a wasp nest for safely removing it from your area. First of all, our experts inspect your property and use various chemicals to clear all types of bees and wasps from your space. We do not kill bees and wasps, we safely remove them with their nest to places far from human dwellings.
Services We Offer For Bees And Waps In Sydney
Bee Swarm Removal
Wasp Nest Removal
Bee Hive Removal
Bee Colony Relocation
Beehive Extraction
Wasp Nest Eradication
Live Bee And Wasp Removal
Emergency Bee And Wasp Removal
Bee And Wasp Relocation
Bee And Wasp Inspection
Explore Our Other Pest Control Services In Sydney
Affordable Pest Control in Sydney: Bee, Wasp, and Hornet Removal Specialists!
Bee and wasp removal services are costly; hence, many people struggle and live with pests. For that instance, our company provides a cheap and affordable range of pest control services so that anyone living in Sydney can get reliable service at a minimum cost. Also, we deal in providing a solution for various types of bee control and wasps control.
We deal in removing different kinds of bees and wasp removal. If you live in Sydney, you may have to deal with several types of pests, and for this, our professional Bee And Wasp Removal Sydney experts are always there to help you in every situation. Here are some of the bee and wasp removal services that we provide:
Usually, leafcutter bees are drawn to rose flowers, as they prefer soft leaves. Leafcutter bees typically prefer soft leaves. Usually, they don't sting unless they feel attacked. We deal in removing wasp nests from the root.
2. Ground Bee
These insects are not aggressive, unlike social bees and wasps. You won't be bothered by ground bees if you don't bother them. But they can ruin soil and crops hence our professional bee hive removal service includes removing ground bees from your area.
Stingless bees are active all year round, although less active in cooler weather, with some species presenting diapause. For removing them from your area, you always require a specialist or professional Bee And Wasp Removal Sydney, expert.
Our Professional service also includes the Removal of Bear Bees and their hive. The professional inspects your area and then provides an effective solution for removing bear bees.
The Asian giant wasps are considered true hornets, although they can be aggressive sometimes, and if you have a family with a pet, it is always ideal for removing them from your property.
They construct large nests, and their workers efficiently harvest nectar and insects, essential to native fauna. However, our service includes removing all German wasps from your area.
Nests made by paper wasps can be easily recognized. Grey nests are made of chewed wood and plant material mixed with saliva from the wasp's mouth. For removing them, you always require a professional expert.
Australian hornets are another type of wasp that can invade your home or sometimes can also hurt your loved ones; however, we deal in providing an effective solution for removing them.
Unmatched Reputation: Delivering Permanent Solutions For Wasp And Bee Removal
Our Bee And Wasp Removal Sydney company have a professional team with expertise in removing various types of pests and wasps from the property. We use products and chemicals that are genuine, and also our experienced team uses the proper techniques so that you don't have to encounter bees or wasps after pest control.
Why Choose Mick's Pest Control For Bee And Wasp Removal?
Because of our quality work, we have become one of the topmost pest control inspection and removal all in Sydney locations. Many of the clients we have helped get rid of various types of bees and wasps. Here are some of the reasons why you can go with us.
Effective Pest Control Plans
Our professionals are local to Sydney and know how to eliminate all types of Bee and wasps from your area. We create an effective solution for every of your pest control needs.
Safe Treatment Procedures
Our chemicals are safe for kids and pets. all the chemicals we use in removing wasps and Bee are made organically and do not cause any harm
Available 24×7
Bees and wasps can invade your home or property anytime. For this, we are available 24×7 for the service.
Pocket-Friendly Prices
Unlike other Bee And Wasp Removal Sydney companies, we are cheap and affordable. We provide excellent solutions within minimal time.
For Bee And Wasp Removal in Sydney, We Are Available Nearby
We ensure delivering effective and satisfying pest treatments to all areas of Sydney. We also serve Sydney's nearest areas:- Burwood, Homebush, Dural, Crestwood, Collaroy and more locations. Whether you need any bee and wasp removal service, our professionals will help you successfully eliminate all types of Bee and wasp hives from your area.
Sydney, NSW 2000, Australia
FAQs
Why Choose Professional Bee and Wasp Removal Sydney Service? 
The professionals are supposed to use great techniques and methods for bees and wasp removal. Experts will do things properly with high-end innovations. It produces a safe environment for humans and removes pests from the surrounding. We use best practices for efficient and effective treatment in the surrounding area for bees and wasp removal. 
Can The Bees Come Later and Infest Again? 
Yes, even after treating the infested areas the situation can occur. Therefore, we recommend you to get the professional bee and wasp removal Sydney service and get the job done once a year minimum. The professionals will install fly screens to vents and do every possible thing to get rid of bees for a longer period of time. 
Is the Professional bee and wasp removal treatment safe for my family and pets? 
Yes, it's absolutely safe to get the professional bee and wasp removal Sydney service done. The treatment used by professionals is going to be very safe and eco-friendly. That's why the process and treatment and chemicals; everything used in the process is absolutely safe for all family members and pets.