You don't have to be stressed out all the time because Mick's Silverfish Control Service in Sydney keeps you calm
Have you ever seen minor silver-coloured bugs at your home? This type of insect is called a silverfish. Arthropods are a type of animal. They are a common pest in the city of Sydney. They are mostly found near food and water. Silverfish can cause a lot of sickness and damage paper, books, and clothes. It is easy to get rid of silverfish from your home with the help of Silverfish Control Sydney service providers like us.
Mick's Pest Control is one of the best and most well-known silverfish control Sydney service providers. Having been in business for a long time, we are offering Sydney's best pest control service that works. Our pest controllers have a lot of experience and are very good at getting rid of silverfish. People who work for us use cutting-edge technology and the best insecticides to keep pests at bay in a safe and environmentally-friendly way. Our controllers can quickly get rid of silverfish from your home. You can get rid of silverfish with the help of our professional controllers at a low price; on the same day that you book, just call on 02 4018 7435.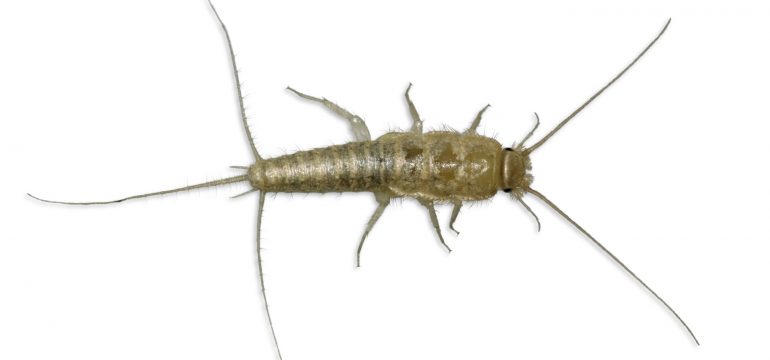 We offer the best pest control service at the best price in Sydney, We remove all types of silverfish from your home
If you live in Sydney, we can help you get rid of silverfish at a reasonable price. Our team of certified silverfish experts can help you get rid of them from your home in Sydney. They know how to develop effective ways to get rid of them. The chemicals we use are safe and don't have any adverse side effects. If you live in Sydney, you must know that we're one of the city's best silverfish control service providers.
Mick's Pest Control provides long-term solutions instead of short-term cheap pest control work
Silverfish can cause damage to your home and business. They can also cause allergies by putting their droppings or faeces into the air. We have an excellent silverfish treatment that has no adverse side effects. Our licenced silverfish treatment specialists are one of the best things you can do for your home or business in Sydney. This is how we do our work:
Our silverfish control experts will arrive at your home in Sydney within an hour after the appointment has been set up. During the night, silverfish are a pest. This means they like dark and wet places. The technicians will thoroughly inspect these areas and look for other places where silverfish might live. As you can see, this includes boxes where you keep dry food, wet places where you keep things like books, cabinets, desk drawers, and even your kitchen!
Treatment for silverfish removal
After we've done the necessary inspection, we'll move on to the silverfish treatment plan, which will be tailored to your pest control needs. We are very well-equipped and trained to deal with any silverfish problems you might have in your home in Sydney. Our staff is always on time and friendly, and they will treat your home for silverfish.
When the pest treatments are done, another inspection will be done to ensure that these bugs and other pests are gone through our pest control service.
Our Professional Pest Control Services in Sydney
For People in Sydney who are thinking about hiring a service to get rid of silverfish, Mick's Pest Control is the best choice because many people in the area have chosen us
The best pest control team in Sydney is Mick's Pest Control. We can get rid of silverfish pests in both businesses and homes. Our service is cheap and gives good results. Here are some more reasons why do people choose us:
People who work with us in this field have a lot of experience.
Uses the best and most environmentally friendly treatments.
New equipment and sprays.
Group of people who have been trained and certified as pest controllers.
24*7 great customer service.
100% satisfaction with prices and service quality.
Our experts can get rid of and remove silverfish from both commercial and residential areas on the same day that you book them. Reach out to us to get silverfish control in Sydney reasonably priced.
We're Able To Help You With Any Pest Or Silverfish Control Service In Your Sydney Area
We are the best silverfish pest control company in Sydney, and we can help you with all of your pest problems. Our team of experts gives friendly service at a reasonable price through our emergency services. We hire only certified specialists who work hard to get rid of all kinds of pests at our company. We also serve Sydney's nearest areas:- Randwick, Castle Hill, Bondi Beach, North Bondi, Glenmore Park and other locations.
Call us now to set up an appointment! We will be at your Sydney home in an hour to get rid of the pests right away.
Sydney, NSW 2000, Australia
FAQs
What are the environmental conditions that silverfish like to live and breed in?
Silverfish are always looking for warm and humid environments. They prefer an environment that is somewhere around 70 to 80 degrees Fahrenheit. Therefore, most human properties are the best place for silverfish. It makes it easier for them to breed and live in such areas. For example, cupboards, attics, basements, roofs, walls and other humid areas. This is because they require this amount of humidity for their eggs. As then only they will hatch and make the breeding an easy process. 
Why should I get rid of the silverfish problem in my home?
Firstly, silverfish like to eat proteins in the pantry. Hence, they will look for meat and other protein sources. Likewise, they also have an appetite for starch, sugar and carbohydrates. Therefore, they like to feed on paper, fabrics, leather, glue and packed foods. Secondly, they lead to the destruction of important items in your house. Silverfish will ruin books, important documents and clothes. Lastly, they are a source of attraction for other pests. As these pests find silverfish as a food source for them. Therefore, it is important to take a silverfish infestation seriously. 
How can a professional pest control get rid of silverfish from the property?
The approach completely depends on the severity of the silverfish infestation. The most common method is to use chemical pesticides. This is done when you have a severe infestation and dead silverfish in your home. Thus, the common chemicals used are pyrethrin and propoxur. This way all the adult silverfish are exterminated. Other approaches might include sticky traps, baits, boric acid, diatomaceous earth and bat traps. Therefore, a professional will always inspect your property thoroughly. And then proceed with the proper treatment plan accordingly.